Dionisio Rodríguez Esparragón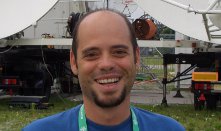 Instituto de Oceanografía y Cambio Global
Edificio de Electrónica y Telecomunicaciones
Campus Universitario de Tafira
35017 Las Palmas de Gran Canaria
Spain
---
Research interests:
Generation and analysis of remote sensing operational products applied to oceanography, climate change and environment.
Multispectral, multitemporal and multiresolution processing of images provided by Earth observation satellites.
Audiovisual and multimedia engineering.
Recent publications
Caballero-Leiva, I., Marrero Betancort, N., Rodríguez Betancort, J.J., Rodríguez-Esparragón, D., Marcello, J., 2019. An Approximation to the Relationship Between Climatic Variables Obtained Through Remote Satellite Sensors and Hospital Admissions: A Case Study on Gran Canaria Island. Sensors & Transducers, 238(11), 80-86. Access publication.
García-Pedrero, A., Lillo-Saavedra, M., Rodríguez-Esparragón, D., Gonzalo-Martín, C., 2019. Deep Learning for Automatic Outlining Agricultural Parcels: Exploiting the Land Parcel Identification System. IEEE Access Vol 7, 158223 - 158236. https:/doi.org/10.1109/ACCESS.2019.2950371

García-Pedrero, A., Gonzalo-Martín, C., Lillo-Saavedra, M., Rodríguez-Esparragón, D., 2018. The Outlining of Agricultural Plots Based on Spatiotemporal Consensus Segmentation. Remote Sensing, 10(12) https://doi.org/10.3390/rs10121991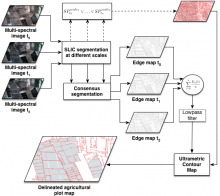 Rodríguez-Esparragón, D., Marcello, J., Gonzalo-Martín, C., García-Pedrero, A., Eugenio, F., 2018. Assessment of the spectral quality of fused images using the CIEDE2000 distance. Computing, 100(11), 1175-1188.
https://doi.org/10.1007/s00607-018-0640-7