Former IOCAG researcher recipient of prestigious IAPSO award at IUGG 2019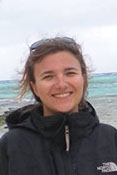 Warmest congratulations to Mar Benavides who has just received the IAPSO (International Association for the Physical Sciences of the Oceans) Early Career Scientist Medal in Chemical Ocean Science at the IUGG General Assembly 2019. This biannual award, one of the most prestigious in oceanography, is presented by the Association as part of its program to promote "the study of scientific problems relating to the oceans and the interactions taking place at the sea floor, coastal, and atmospheric boundaries [...]".
Although now working as a researcher in France, Mar was closely involved in IOCAG for some years, initially as a PhD student under Javier Arístegui, and still maintains regular contact with this institute where much of her early studies took place.