ICES and the Associated Unit CSIC/ULPGC warn of the northward expansion of ocean deserts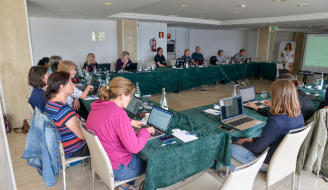 Last week, the Working Group formed by ICES (International Council for the Exploration of the Sea) and the Associated Unit CSIC/ULPGC met to discuss coordination of marine research activities in the North Atlantic related to plancton and oceanography. As the meeting, which brought together 40 researchers from 15 different countries, drew to a close, Santiago Hernández León, Professor of Zoology at the University of Las Palmas and member of IOCAG, indicated that plancton and their movements constituted an interesting tool with which to study climate change owing to their uniform distribution. He explained how ocean deserts were spreading northwards where the most significant fisheries were located and that it was through such meetings that the researchers had the opportunity to obtain first-hand information on the situation.
More details can be read in La Provincia here.