Alonso Hernández Guerra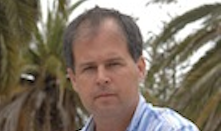 Instituto de Oceanografía y Cambio Global
Universidad de Las Palmas de Gran Canaria
Campus Universitario de Tafira
Edificio de Ciencias Básicas
35017 Las Palmas de Gran Canaria
Spain.
---
Description:
Alonso Hernández-Guerra received his degree in Physics from the Universidad de La Laguna in 1984 and his Ph.D. in Physical Oceanography from the Universidad de Las Palmas de Gran Canaria (ULPGC) in 1990. Part of his Ph.D. was carried out at the Joint Research Centre (JRC) in Ispra, Italy, a center belonging to the European Commission. Since 2003, he has been a full Professor at the Universidad de Las Palmas de Gran Canaria. His research started in remote sensing applied to the study of the mesoscale patterns in the ocean. In 1999, he carried out a sabbatical year at the Woods Hole Oceanographic Institution (WHOI), collaborating with Terrence M. Joyce, where he was introduced to the studies of large-scale circulation of the ocean. In 2011, he spent a sabbatical year at Scripps Institution of Oceanography (SIO) collaborating with Lynne D. Talley and studying the upwelling processes of the Meridional Overturning Circulation carried out in the Indian and Pacific Oceans. Since 2012, he has been the Director of the Instituto Universitario de Oceanografía y Cambio Global (IOCAG) of the ULPGC. In 2018, the President of the Consejo Superior de Investigaciones Científicas (CSIC) approved the unit Océano y Clima of the ULPGC as an Associated Unit with CSIC, led by Alonso Hernández Guerra from ULPGC and José Luis Pelegrí from CSIC. Since 2018, the year in which it was first established, Alonso Hernández Guerra has held the title of "investigador destacado" (distinguished researcher) at the ULPGC. He is the leader of the research group called "IOCAG: Oceanografía Física" that has received a productivity score of A+ (the highest rate possible) at the ULPGC. In 2020, IOCAG received the 'Can de Plata de la Ciencia' prize (the highest distinction awarded by the Cabildo de Gran Canaria) for its scientific trajectory in the studies of climate change. He has been involved in several national and European research projects and is author of more than 70 peer-reviewed papers with an h-index of 26.
Research interests:
Large-scale Ocean Circulation