Javier Marcello Ruiz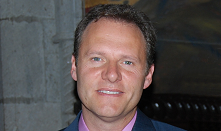 Instituto de Oceanografía y Cambio Global
Edificio de Electrónica y Telecomunicaciones
Campus Universitario de Tafira
35017 Las Palmas de Gran Canaria
Spain
---
Description:
Javier Marcello received the M.S. degree in electrical engineering from the Technical University of Catalonia (UPC), Barcelona, Spain, in 1993 and the Ph.D. degree from the Universidad de Las Palmas de Gran Canaria (ULPGC), Las Palmas de Gran Canaria, Spain, in 2006. From 1992 to 2000, he was the Head Engineer at the Spanish Aerospace Defense Administration (Instituto Nacional de Técnica Aeroespacial), serving at the Canary Space Center, for different programs(Cospas-Sarsat, TT&C, MINISAT, Helios,and CREPAD). In January 1994, he joined the Department of Signal and Communications, ULPGC, where he has been an Associate Professor in the Telecommunication School, lecturing on the areas of satellite and radio communications, since 1999. His research is conducted at the Institute of Oceanographyand Global Change (ULPGC) and includes multisensor/multitemporal satellite remote sensing image processing, particularly image segmentation, classification, fusion, and oceanographic and land product generation.
Research interests:
Remote sensing image pre-processing techniques (radiometric, geometric and atmospheric corrections; cloud detection)
Remote sensing image processing techniques (segmentation; feature extraction; motion estimation; classification and image fusion)
Remote sensing analysis of data from many sensors and satellites (AVHRR, SeaWIFS, MODIS, MERIS, ATSR, Seviri, SPOT, Landsat, Deimos, Quickscat, Ikonos, Geoeye, Quickbird, Worldview, Aster, etc.)
Climate change, marine, costal and land analysis.