José Mangas Viñuela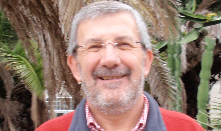 Instituto de Oceanografía y Cambio Global
Universidad de Las Palmas de Gran Canaria
Campus Universitario de Tafira
Edificio de Ciencias Básicas
35017 Las Palmas de Gran Canaria
Spain
---
Description:
BSc in Geological Sciences, Universidad of Salamanca (Spain) 1980, with distinction (1981) and Special Award in 1982. PhD in Sciences-Geology, University of Salamanca (1987). Lecturer in the University of Las Palmas de Gran Canaria (Spain) from 1988 to 1996, and Full Professor in the same University from 1996 to present. My research fields are the Geology of the Canary Islands (ocean intraplate volcanic islands); Economic Geology-Mineral Resources (Mineralogy, Petrology and geochemistry); Geological Heritage and Geo-archeology.
Research interests:
Geology of intraplate volcanic islands and seamounts (Canary Islands).
Geological characterization of rocky and sandy Canary coasts.