Alejandro Lomoschitz Mora-Figueroa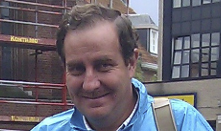 EIIC Escuela de Ingenierías Industriales y Civiles
Departamento de Ingeniería Civil
35017 Las Palmas de Gran Canaria
Spain
---
Description:
BSc in Geological Sciences, Universidad Complutense de Madrid (1984).
PhD in Sciences-Geology, Universitat Politècnica de Catalunya (1995).
Licensed Geologist (Engineering Geology) (1985-present) and European Geologist (2005-present).
Research interests:
Geological recognition of large landslides and rock falls.
Geology and Geomorphology of oceanic islands.
Geology and Stratigraphy of palaeontological sites, Sedimentology and Palaeogeographical interpretation.
Palaeoclimate evolution and Climate Change influence on civil works.